The Foundation Rack
Affordable High Quality Equipment Support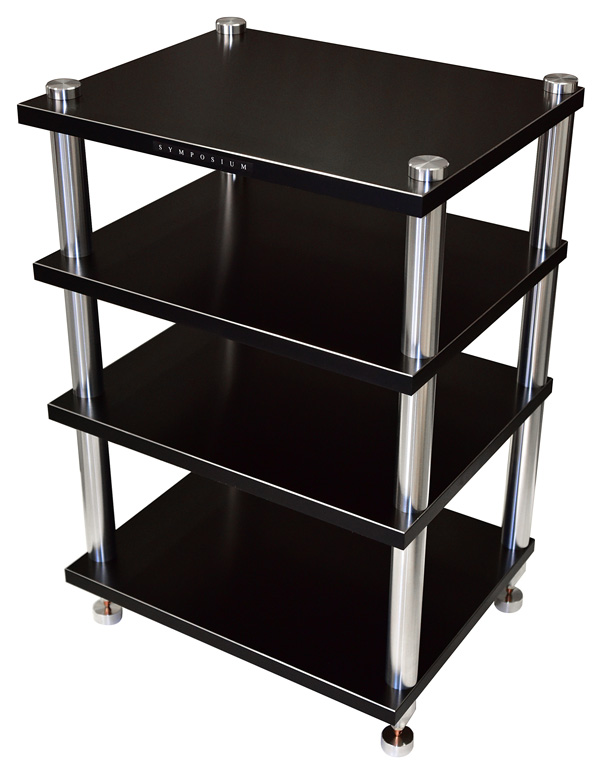 Standard Foundation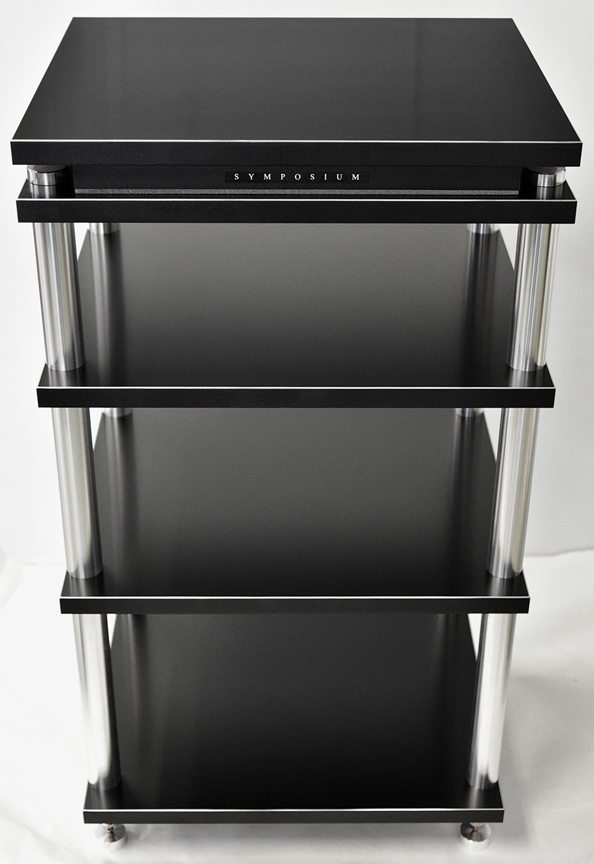 Foundation Ultra
Symposium is proud to present the Foundation Rack: a high quality component support that isn't "just furniture." An affordable alternative to "ordinary" equipment racks, the Foundation Rack offers superior performance, strength, and reliability in an attractive, modular package.

"I finally completed installation of the rack and have installed the other products I purchased... With the weight of the rack itself and the other components, that rack isn't going to walk anywhere. It is highly solid and rigid...

"After reconnecting all the components, I was curious to find if I could hear any sound improvement beyond the installation of my Super Plus Platforms. The improvement was anything but subtle. The bass is quicker and deeper. Much deeper and larger sound stage. Everything sounds better, even the midrange. I played Copland's "Fanfare for the Common Man" and the timbre and transient quality of the tympani and the bass drum is awesome.

"I also played a bass singer singing "Old Man River" on a DVD of a San Francisco Opera performance of "Show Boat." His voice is much more open and in the presence. So that tells me I made a good decision to put the Segue under the center channel speaker.

"I don't know which of the many devices I installed had the biggest impact on the improvement, so I guess they all added some amount to the cumulative effect. Even the tuner sounds great.

"The Foundation Rack is much more solid... On my former rack, I could still tap the post with my hand and see the components on the Rollerblocks move around. So even though I filled the tubing posts with filler, there was still some flexing in the stand. With the Foundation Rack there is no movement. So when I tap the side of the posts with my hand, there is no movement on the components above the Rollerblocks. I would think that, in addition to the technology in the shelving, the rigidity of the posts also contributes to the better sound.

"It appears that everything I have purchased from you has contributed to the anti-vibration control, and I couldn't be more happy with how fantastic my systems sounds now. I also did one more thing. I threw away all of my Auralex platforms. They may help to keep the bass from going to the floor, but I have decided they are more of a detriment to my sound quality than they are a benefit.

"Thanks for taking the time to help me understand the physics and theory behind how your devices work."

- LS, Hawaii

"I am gobsmacked at how nice the rack is for the price charged."

- MT, Ohio
Foundation Rack Features:

Resonance-free constrained-layer shelving
Super-strong, solid 6061 "aircraft" alloy frame
Optional Rollerblock® Module isolation
Modular design can adapt to changing system requirements
Natural, Silver or Black leg finishes
"HD Channel" reinforcement for extremely heavy components
Adjustable stainless steel or reversible Tellurium Copper bottom spikes
"Ultra" levels for greater isolation and damping
Extra-wide "DoubleWide" versions available; call/email for information
custom shelf sizes available
Specifications: Standard Model

The Foundation Rack's Standard Model features internal and top shelving 20" wide by 20" deep (50.8 cm x 50.8 cm). Ultra Top levels (shown below) offer full 23.75" (60.3 cm) width and 20" (50.8 cm) depth. Extended depth levels are available on special order.

Here's a diagram of the standard Foundation Rack shelf level:

Custom sized shelving is available on special order.

>Ultra Model

The Foundation Rack Ultra Model features a top "Ultra" level (shown here) for additional isolation and damping for critical components such as turntables and digital sources. With a top surface area of 23.75" x 20" (60.3 cm X 50.8 cm), the Ultra top provides plenty of real estate for large components, and can be ordered in larger sizes for components that require even greater area support. The Ultra model Foundation Rack also includes an automatic upgrade to exclusive, top-grade Tellurium Copper reversible bottom spikes.

Additional Ultra type levels can be ordered for interior levels to provide greater damping and isolation for other components.

HD Reinforcement Channels

If you're planning to install extremely heavy components such as very heavy power amplifiers, optional 3mm thick stainless steel Reinforcement Channels provide effortless strength and additional rigidity for even the heaviest behemoth components!

>DoubleWide Models

The Foundation Rack can be ordered in a "DoubleWide" configuration, such as shown here holding a center channel loudspeaker and other components (and easily supporting a large flat screen TV), at widths up to or greater than 48 inches. Please call or email for more details.
Please call or
email
for pricing or more information on the Foundation Rack system