S
YMPOSIUM
®
ULTRA PLATFORM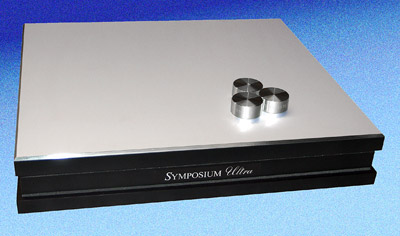 The Ultra Platform is supplied with 3 Precision Couplers in most stock sizes (see below)
Sizes listed are in inches; exact dimensions are 0.25" less than nominal sizes except for 35x22 and custom sizes
Up to 9 x 14 "Half" For very small components, power strips, and accessory units

19W x 14D "Standard" For most components

19W x 18D "Medium" Suitable for deeper components such as digital players, etc

19W x 21D "Large" For larger amps, medium sized turntables

19W X 24D "X-Large" Large amplifiers and turntables; includes 4 Precision Couplers

19W x 25D to 35W x 24D "XX-Large" Very large turntables, "Super Sized" amplifiers, etc. Includes 6 Precision Couplers.

Please note: Unless specified, labels are placed on the 19" side for 19x14 - 19x24 sizes, and on the 14" side for 9x14 "Half." Custom sizes should be ordered with the Width "W" and Depth "D" specified. These conventions are ARBITRARY; the Ultra Platform label can be placed on either dimension upon request, but if not specified, the FIRST dimension specified will be considered to be the "Width." For instance, a "14 x 19" Ultra Platform size request will be considered to be 14 inches wide and 19 inches deep, and so will have its label placed on the LONGER dimension instead of the normally labeled shorter dimension.

Motor Cutout Edition with separate, isolated "island" for turntable motors and flywheels.

Stealth Edition: An additional, jet black "silk finish" anodized top layer provides a triple-constrained-layer aluminum top (special order)

PRO AMPSTAND Version: The Ultra Platform's bottom is specially machined to accept four "Terminator Cone Feet" with Tellurium Copper reversible spikes. Unsurpassed for large, floor mounted amplifiers when presentation and best sound is a must.


Custom sizes available; please call or email for pricing information and delivery time on Ultra Platform custom sizes.