SYMPOSIUM
®
Precision Rack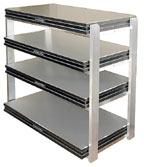 Introduction

The Precision Rack is a "no holds barred" attempt to make the best support structure possible for our shelves. Instead of using more common construction techniques, using wood, or hollow metal tubes, the Precision Rack is made from solid rectangular bars of aircraft grade aluminum, precision cut, machined, and beautifully hand-polished.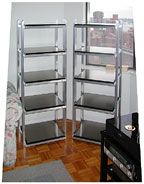 Description
We have heard the opinion that a rack isn't important- that the shelves, the footer devices, and those things that actually and directly contact the component are the only things that matter. Although we would agree that these have the most profound influence on the vibration treatment of the component in question, the support structure is also important, and for several reasons.

The rack, or frame, should be rigid and have excellent energy drainage characteristics, and the frame should be damped to discourage resonance. As we stress in the description and design of our platforms, energy drainage is of primary importance in the grand scheme of vibration control and isolation. Without it, energy remains trapped in the active circuitry to cause more signal distortion (spikes and cones function on this principle). Racks and stands which provide stopgap "isolation" schemes (with, for instance, rubber air balloons or sorbothane motor mounts), then disregard the drainage or sonic signature of the actual shelf, are making a bad problem worse. We have found, after years of experimentation and research, that the battle for vibration control is fought and won at the component itself. That is, the closer to the component you provide proper damping and isolation, the better will be the ultimate result. Whatever energy is left over should be conducted to ground as efficiently as possible. The rack, therefore, should be like a cone or spike- rigid and dense in order to provide for proper grounding of mechanical energy.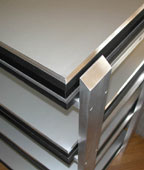 Aircraft aluminum and precision machining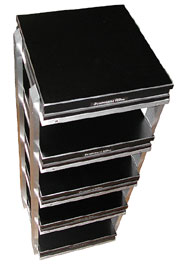 The Precision Rack adopts the Symposium approach that a drainage path be as perfect as possible so that excess energy can be grounded properly. The Precision Rack's solid members are made of two different alloys of super-strong aircraft-grade aluminum. These two alloys, in conjunction with one another, serve to damp each other, and also provide a superior pathway for energy. The stiffness (necessary to resist additional vibration) and transmission efficiency of solid aluminum bar is extremely good, and far superior to any wood materials or steel tubing. Filling a hollow tube with sand or lead shot "approximates" what solid aluminum bar is capable of- but cannot match it. In order to ensure the most rigid structure possible, each piece of the Precision Rack is machined to tolerances of 1/1000 inch or better- for near-perfection in not just appearance, but also performance. The solid aircraft aluminum members of the Precision Rack are like a lightning rod for mechanical energy- conducting it to ground quickly, without resonance or "bounce." The result, when combined with Symposium platforms, is a matchless stand for your components- both visually and sonically.
The Wide Open Spaces
The Precision Rack was designed to allow for lots of space for your components. The bottom shelf boasts a generous 14 7/8" clearance (with Svelte shelves) to accommodate taller amplifiers with Rollerblocks or other special "footer" devices- and still leave plenty of airspace for adequate ventilation. The middle levels have lots of vertical space, too, so you can use Rollerblocks, Couplers, or other "footer" devices under your other components without clearance problems.
Precision Rack Distance Between Shelves
Shelf Type
Svelte
Super Plus
Ultra
Middle Levels
33' & 45" Models
10.875"
(27.6 cm)
8.75"
(22.2 cm)
8"
(20.3 cm)
Middle Levels
62" model
11.875"
(30.1 cm)
9.75"
(24.7 cm)
9"
(22.8 cm)
Bottom Level
all models
14.875"
(37.8 cm)
12.75"
(32.4 cm)
12"
(30.5 cm)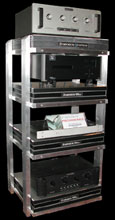 The Shelves
Our Platform designs have always featured simultaneous energy dissipation from both top and bottom directions. Through their symmetrical design, the Ultra, Super Plus, and Svelte Shelf treat not just the component but also the support structure- in this case, the Precision Rack, for acoustic neutrality with unsurpassed energy dissipation, while the dedicated standard shelves have been designed to mate with the rack frame itself, providing a solid "fit" which damps not just your equipment, but also the rack itself. Standard shelving consists of 21" wide by 19" deep Svelte Shelves- but Super Plus, Ultra, or Quantum platforms may be substituted for any or all levels at extra cost.
Stainless Steel Insert Point Leveling System
If you need to level the Precision Rack, or make fine adjustments on an uneven floor, there's no need to get down on your hands and knees and fumble with nuts and threaded spikes. The Precision Rack is leveled through a unique leveling system. At the outside bottom of each of its four 3" X 1" uprights is a precision machined slot which extends through the leg and out the bottom center. Each of these slots is then threaded, and in each thread is a stainless steel oval or cone point setscrew. By simply inserting a long-handled hex wrench (supplied with rack) into the slot opening at the base of each leg and turning the inserts clockwise or counter-clockwise, one can easily make precise adjustments for level or for uneven flooring (the case in nearly 100% of installations). With this system, it's easy and "painless" to get rock solid stability- necessary for maximum sonic performance.

Shipping and Delivery
The Precision Rack is available two ways: pre-assembled and aligned, or partially assembled (UPS shippable). The preassembled rack is crated and ships via common carrier. Shelves are separately boxed; we include a set of adjustment tools, plus all instructions necessary for final installation.
There is No Equal
The quality of the Precision Rack is unmatched in the audio industry- and reflects our commitment to achieving best possible results at any cost. For this reason, the Precision Rack is currently sold factory direct at wholesale prices. Please call Symposium direct for pricing, options, and delivery times.
Click on any of the images for a larger picture.
Precision Rack Specifications
Shelf Dimensions: 21" Wide X 19" Deep (53x48 cm), other sizes available
Material: Solid rectangular bar aircraft alloy aluminum
Finish: Lustrous satin brushed hand-finish
Uprights: 3" x 1" solid rectangular bar
Leveling system: Adjustable stainless steel point inserts
Weight Limit: Virtually unlimited
Standard models and heights: 3 level, 33"; 4 level, 45 ½"; 5 level, 62"
Hardware: All stainless steel
Each Precision Rack is shipped preassembled and aligned, and includes leveling and adjustment tools


Home
Products
Super Plus
Ultra Platform
Quantum Platform
---
Home |
Products |
Technology |
Reviews |
Dealers |
F A Q |
Set Up Tips |
The Gallery |
What's New |
About Us |
Feedback |
Privacy Policy |
Contact Info
Copyright © 2001
Symposium USA, Inc.