SYMPOSIUM® Rollerblocks Set Description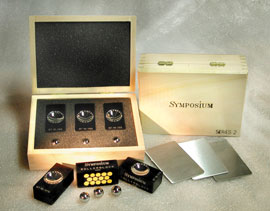 Click image for larger picture
Symposium Rollerblocks are packaged in an engraved, wood presentation case and come complete with Rollerblock bodies, standard chromium steel balls, polished stainless steel Rollerplates (for use with irregular chassis), and full instructions. They are available in sets of 3 or 4.

There are 2 ball bearing upgrades for the Rollerblocks: standard Grade 25 Tungsten Carbide balls, and the ultra-high precision, Grade 3 "Superball."

It is also possible to upgrade from first generation "Series 1" Rollerblocks to current "Series 2" configuration.